On the 25th anniversary of the passing of the Disability Discrimination Act, Team BRIT founder Dave Player talks about the progress that has been made around accessibility in motorsport and the huge challenges that still face disabled drivers today.
"I've been described in a lot of ways over the years, but probably one of the most common phrases I hear when people talk about my personality or my work is 'determined'.
That's true, I am determined – sometimes stubborn with it – determined to make life fair and equal for disabled people.
Most of the progress I try to make is in motorsport. It's my passion as a team manager and as a disabled person. I'm not a racing driver – but it's my resolute focus when it comes to making positive change.
Our team talks a great deal about competing on a level playing field. We've developed the world's most advanced racing hand controls so that drivers with amputations or poor leg strength / movement can truly compete equally alongside able-bodied drivers. We are now working on developing a solution for drivers with poor hand function. Anything we can possibly do that has a direct impact on this right to equality, we do.
There are however, a lot of things in the racing world that are out of our control and we do our utmost to provide positive influence in these areas where we can.
25 years ago, the Disability Discrimination Act made it unlawful to discriminate against disabled persons in connection with employment, the provision of goods, facilities and services. In my view, the motorsport industry still has some way to go to say it truly complies.
The difference between the process a disabled person and an able-bodied person has to go through to get their race licence is staggering.
Until just five years ago, disabled drivers had to acquire six non-competitive race signatures before they could sit their test for a race licence, incurring huge costs and a very long wait. Their able-bodied friends and peers could simply apply, take their test and receive their licence the same day.
In 2015, I made a suggestion to the Motorsports Association (Now Motorsport UK) that the licencing system be reviewed to see if it could be improved and they agreed.
The example I gave, which I still find really powerful was, "We have an Apache pilot instructor that is a walking paraplegic and wants to race. He has more skills than F1 racing drivers so why does he have to jump through all these hoops when a 14 year old that doesn't even have a driving licence can walk in off the street and sit his ARDS Test?"
In Nov that year, MSA agreed to trial a new ARDS test at Silverstone, under the leadership of their then disability consultant, David Butler MBE, who has led the way in enhancing accessibility in the sport for years. Under his expert advice, huge improvements were made. At the time, they tested the new system with four of our Team BRIT rookies and the process was updated so disabled rookies needed a medical, and an extended ARDS test, taking a full day instead of a half day and costing double.
This was a huge improvement but the difference in process was still stark.
Since David retired from the MSA, the process for disabled drivers has changed numerous times, for the worse, in my opinion.
At one point, disabled drivers could only drive cars for which they had provided a video showing they could extract themselves from within 10 secs. At the time, we had two x Fun Cup cars and three x BMW 116s so our drivers had to provide videos escaping from all five cars when only two videos would clearly have done the same job. This system meant disabled racing drivers were restricted to only being able to drive these cars when an able-bodied racing driver does not have the same restrictions.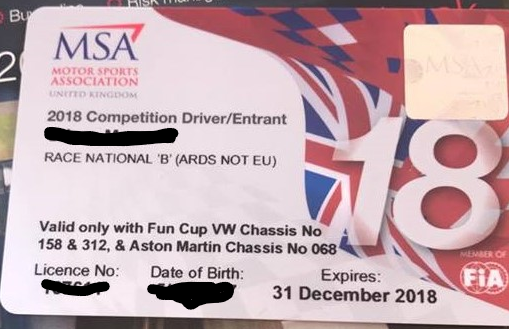 Today, a disabled driver needs to first apply to MSUK so they can be assessed as to whether they are suitable or not to apply for a race licence. Once they are deemed suitable, they need a medical and an ARDS test – plus a video escaping from the car within 10 secs.
An able-bodied applicant can have their application fast-tracked to a 3hr or 3-day application for an extra fee. A disabled applicant needs at least two weeks.
I'm in complete agreement that the safety of the disabled driver and all other drivers they race with on the track must be of paramount importance when it comes to granting race licences. Motorsport can be dangerous and our governing body has to be sure that it's not putting anyone at risk by granting them the ability to compete.
However, I do believe the existing system is discriminatory and can be easily changed.
A disabled driver often needs some extra adaptations to race safely. All that's needed is an extra 'passport' for this adaption. This means the race car has its documentation, the racing driver has their race licence, and the hand controls or other adaptation has its 'passport'. This would provide the flexibility and respect to disabled drivers, that is so clearly given to able-bodied people.
There is often talk around a 'hierarchy of protected characteristics' and disability is often left behind in the journey towards equality.
This journey has never been easy and will never be easy, but simple steps, based on learning, expertise and experience can be taken so that everyone is given the same opportunity to thrive.
That's what Team BRIT is all about.
Britain leads the way in all things disability and all things motorsport, I won't stop until these two positions align. We can make British motorsport something every driver, disabled or not, can be proud to be part of.